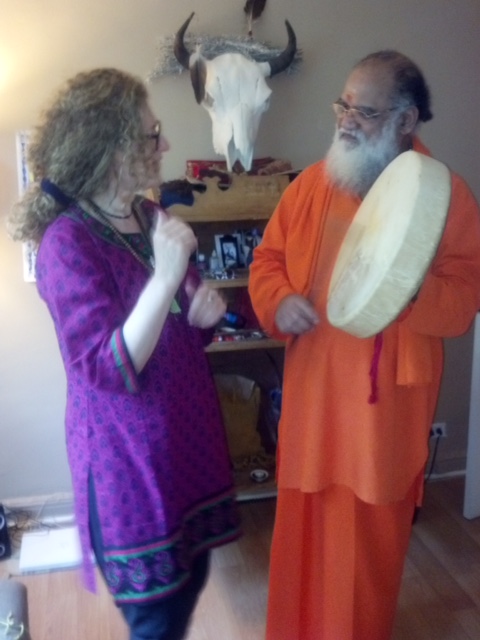 "I have been fortunate over the years -- through therapy, yoga and deep spiritual thought -- to work on my personal evolvement and growth. I reached a certain point and could go no further. And then, I met Janice. Janice is able to see you and your spirit guides in totality and with her gentle, empathic wisdom she enables you to access the deepest, clearest healing and growth I have known." Anonymous
"Janice's shamanic work is profoundly authentic, moving, healing enlivening. It guides you to a deeper realm of consciousness that supports healing into wholeness. In my first session I met my Spirit animal guide, which was a gift and a blessing. Thank you, Janice." Kimberly Vaughn, Broadway Performance Coach
"I recently had the opportunity to study with Janice and learn how to take this incredible work a step further, to access my guides and spirit helpers on my own, at any time, anywhere, whenever needed. What Janice has so generously taught me, provides me with not only a level of comfort in knowing that I am guided and protected, but also a means by which to find resolution, trust and answers to so many questions." Karen Greenberg
"Exceptional insight and deep compassion are the markers of a healer, in this sense Janice Zwail is a true healer; my personal experience with her work has been one of profound release from a long held wound, the release of which was entrusted to one of true authenticity such as Janice". Nadiya Nottingham
"I've been helped by Shamanic practices and other spiritual healings over the years, like to travel with others of "platinum standards," and count Janice Zwail to be among the most trusted, selfless, clear and authentic. Her healing is gentle yet thorough, showing what a true facilitator of Spirit looks and feels like. Janice also does a mean tap dance and I've seen Maasai men of Tanzania go gaga for her. I gladly refer her to my patients, family and friends and encourage you to have a healing with her". Dr. Sheilagh Weymouth
"My name is Carolyn and I live in Michigan. I feel so blessed to have had Janice enter my life. Though I've not had the opportunity to meet her in person, she has provided significant healings for both me and my six-year old son. For me, Janice did a soul retrieval and an extraction that I believe healed me in ways that nothing else could. I take such comfort in knowing that I can relive the amazing feelings of completeness and being protected by something much bigger than me when I focus on allowing my body to enter that space. For my son, Janice did an extraction while he slept that I know I will remember as a pivotal healing point in our lives. My son was suffering from great stress that I believe comes from his empathetic ways. He was feeling the pain of people in his life and didn't know how to handle it. Janice cleared his body of the negative forces and also gave me suggestions on how to keep my son's soul healthy and protected. These were simple suggestions that were immediately effective. The happiness on his face while drinking his water from a blue goblet, as suggested from Janice, is heartwarming and unforgettable. The relief in having my son return to his former easy-going personality is inexplicable. I am so glad that I contacted a spiritual healer to help with what I knew was a spiritual situation. I would be more than happy to discuss my experiences with Janice's healings for me and for my son with anyone having questions. May all beings be peaceful and happy." Carolyn
"I met Janice at one of the darkest moments of my life, I was suffering from extreme physcological pain that was coming from what I have come to know as a soul sickness, alongside some paronormal happinings.
I had been to many people in sheer despairation, at times actually begging for help,I was living from one day to the next with intense
anxiety and fear that I could find no relief from, it was like walking a tight rope between sanity and insanity on a daily basis.
When I started to get answers and a better knowledge of the condition that I was really suffering from, I was directed to contact Janice as someone who could help with the healing process. I have been walking on this beautiful but sometimes brutal spiritual path for twelve years and in that time I have met many healers and teachers, read many books,been to many workshops, but I have to say that Janice is someone i knew could help me from
our first conversation, that first time I heard that unique high pitched love filled voice, I believe my healing process was under way. I placed myself under the tutelege of Janice and let go so she could preform her very intense powerful work which showed up through Shamanice cermonies, and very accurate counsel and support on days when I didnt think I could keep going.
Janice preformed multiple soul retrivals and extractions on me, which is an experience in itself, I worked closely with her over a period of time in which my hope was strengthened until I could really see the transformative results. One has to really believe in the work for it to really take hold.
Janice is a very powerful Shaman and Healer amongst many other things, she has a radiant energy that invigorates me everytime I step into her presence coupled with a kindness and strength, with a desire to help her fellow traveller. I have witnessed Janice be a channel for some pretty unbeliavable stuff. Janice has been a life changing experince for me."